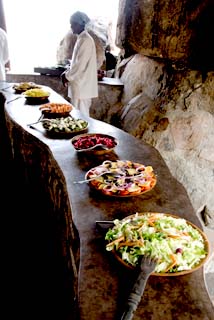 Fantastic Fare
-Food is prepared from fresh produce from our Highland farm.
-A full English breakfast is complimented by freshly baked cinnamon bread, fresh fruit, tea and coffee.-Lunch is a cold buffet with a selection of meats, pastries or pizzas and salads, followed by a dessert.
-Dinner is a three course meal with a vegetarian option.
-Any special dietary requirements should be made known at the time of booking.
-Decaffeinated coffee is not readily available in Tanzania, so if required it is preferable to bring some with you.
(BACK)